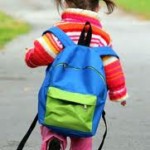 Another summer is gone and we send our kids back to school. On the school supplies list, the first item is, usually, a backpack. But is this very useful item damaging our children's spine and posture. The backpack itself it may be innocent but when we load it with heavy books and other things that we have to fit inside things are not so harmless.
Over 79 million students carry a backpack to school each day. While carrying a backpack may seem harmless, it can cause painful back and neck problems for students who don't pack or carry their backpacks properly. It can also lead to long-term medical problems.
When shopping for a school backpack, doctors and therapists have these useful tips:
A light backpack fabric is better than a heavy one, this is one easy way to cut on loading the back with unnecessary weight
Adjustable shoulder straps can elevate the backpack on the child's back so reducing the risk of posture damage and spinal pain.
Padded shoulder straps make it easier on muscles and tendons
Wide shoulder straps can distribute the weight to a larger area, reducing red spots, numbness or other shoulder problems.
The anchor points of the shoulder straps should be 1 to 2 inches below the top of the shoulder for the best fit.
The smaller the backpack the better and easier on your child's back, because it can reduce the amount of things that can fit inside and thus the weight of the load.
The bottom of the backpack should not go lower than the child's waist line
Safety tips on how to avoid backpack injuries:
1.  Wear both shoulder straps evenly to properly distribute backpack weight.
2.  Get the correct size backpack for your child.
3.  The backpack should not extend below the lower back. Bigger is not better.
4.  Lighten the load and put the heaviest items in the backpack first keeping them the closest to the body.
5.  Lift the backpack with your legs and place it on one shoulder strap at a time.
6.  Do not leave backpacks on the floor to avoid someone tripping on them.
7.  Choose a quality backpack that has wide well-cushioned shoulder straps with a lumbar support/padding.
8.  Talk to teachers about reducing the need to bring home textbooks or if at all possible, have an extra set for home use.
There also some other things that can be done to prevent problems. First is important to educate our children in proper carrying a backpack, like:
Wear the backpack on both shoulders
Tighten lousy straps
Use the waist strap if there is one
Don't carry it if is not necessary
Pack the heaviest items closer to the back
Back to school can get expensive when you have more than one kid. Trying to stay on a budget while buying every single item from the school supply list – list that seems to become longer and longer with every year – it is a huge task. It is easy to lose track of some common things like backpacks. But we should remind ourselves that choosing now the right backpack may save our children future.
If you are concerned about your child's backpack safety, please ask your Minnesota Chiropractor to help fit your child's backpack properly.