What Is Whiplash?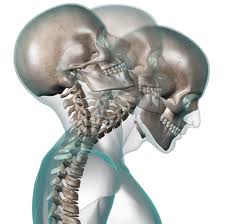 Whiplash is neck injuries that can occur during rear-end automobile collisions, when your head suddenly moves backward and then forward — similar to the motion of someone cracking a whip. These extreme motions push your neck muscles and ligaments beyond their normal range of motion.
Whiplash injuries can be mild or severe. Treatment typically begins with over-the-counter pain relievers and ice applied to the painful neck muscles. If pain persists, prescription medications and physical therapy may be helpful.
Most people recover from whiplash in just a few weeks, but some people with whiplash injuries develop chronic conditions that can be extremely painful and disabling.
Most whiplash symptoms develop within 24 hours of the injury and may include:
Neck pain and stiffness
Headaches, most commonly at the base of the skull
Dizziness
Blurred vision
Fatigue
Some people also experience:
Difficulty concentrating
Memory problems
Ringing in the ears
Sleep disturbances
Irritability
While most people involved in minor motor vehicle accidents recover quickly without any chronic symptoms, some continue to experience symptoms for years after the injury. This wide variation in symptoms after relatively minor injuries has led some to suggest that, in many cases, whiplash is not so much a real physiologic injury, but that symptoms are more created as a result of potential economic gain. Many clinical studies have investigated this issue. Unfortunately, while there will always be people willing to attempt to mislead the system for personal gain, nevertheless, whiplash is a real condition with real symptoms.
Fortunately, whiplash is typically not a life threatening injury, but it can lead to a prolonged period of partial disability. There are significant economic expenses related to whiplash that can reach 30 billion dollars a year in the United States, including:
medical care,
disability,
sick leave,
lost productivity, and
Litigation
With ever increasing traffic on our roads, more and more accidents occur where whiplash injury happens. Any accident involving the neck and shoulders can be painful and should be compensated for. Consider chiropractic and acupuncture to help restore proper motion, proper positioning of spinal bones, and to speed healing. Chiropractic treatments can help you get well and stay well after the trauma of whiplash injury.
Are you worried about the medical bills?  Minnesota is a No Fault state which means that every Minnesota auto insurance policy includes Personal Injury Protection regardless of who is at fault.  If you have been injured in a motor vehicle accident, you automatically have coverage to get your injuries treated.