Backpack Safety – Parents are the Best Advocates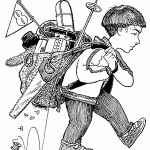 Children make over 10,000 backpack-related visits annually to emergency departments or physicians. The daily stress of carrying a backpack on one shoulder has been shown to alter a child's posture and gait. Despite this evidence, it seems parents may not be addressing the issue.
Parental knowledge of their children's backpack weights was determined by evaluating 188 students, grades K-5, from three Texas schools, after an initial survey of 745 students. Only children with backpacks weighing at least 10% of their body weight were assessed. Average pack weight was 4.9 kg (10.8 lbs.), which represented an average of 14.4% of student body weight. Researchers found that 34% of students reported their parents had never checked the backpack contents, and only 4% of parents had ever weighed their child's pack.
The backpacks of students whose parents never checked the packs weighed significantly more than the packs that were checked by parents. The authors state that parents are the best group to advocate backpack safety promotion, and can do so simply by inspecting pack weights and contents. Physicians and parents should also ensure student backpacks are the right size; carry no unnecessary or additional items; are worn on both shoulders; and carry no more than 20% of body weight (ideally, less than 10-15%).
Note: Over 10,000 backpack-related visits seem excessive! You can educate your patients about backpack safety using the safety checklist included in the full study.
Back to school can get expensive when you have more than one kid. Trying to stay on a budget while buying every single item from the school supply list – list that seems to become longer and longer with every year – it is a huge task. It is easy to lose track of some common things like backpacks. But we should remind ourselves that choosing now the right backpack may save our children future.
If you are concerned about your child's backpack safety, please ask your Minnesota Chiropractor to help fit your child's backpack properly.