Yet another summer is gone and we send our kids back to school. On the school supplies list, the first item is, usually, a backpack. But is this very useful item damaging our children's spine and posture. The backpack itself it may be innocent but when we load it with heavy books and other things that we have to fit inside things are not so harmless.
Is It Bad To Carry Weight On Your Back?
Actually, when wearing a backpack, the weight rests on the shoulders, as is common in many countries around the world where people still have natural, healthy posture.  We know that some of these people carry hundreds of pounds on their heads or shoulders, often for decades.  They remain straight and active into their old age.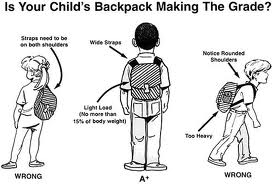 When you stand in the typical American posture, the weight no longer goes through a straight spine, and compensations and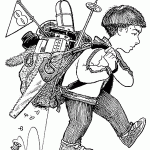 compression result. The best thing you can do for yourself and your kids is to learn healthy alignment and practice it.  You can model this for others, and maybe we can slow the rise in back pain being observed in children.  Sure, it's not great for young kids to carry heavy weights.  But an equal problem is HOW they are carrying the weight.
There are other things parents and children can do to minimize the risk of back pains or injuries:
go light by avoiding heavy items inside the backpack
consider a tote for carrying extra heavy books
buy two sets of books, one for school and one for home (that can be easily resold the next year)
a rolling backpack can work for an one story school
Consider buying an e-reader and download the books
Back to school can get expensive when you have more than one kid. Trying to stay on a budget while buying every single item from the school supply list – list that seems to become longer and longer with every year – it is a huge task. It is easy to lose track of some common things like backpacks. But we should remind ourselves that choosing now the right backpack may save our children future.
For more information or to schedule appointments give your Minnesota Chiropractic a call.